SIMTRAVEL pays RUR 100.00 for friends!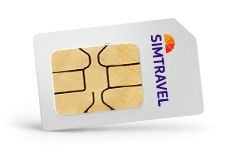 Do you want to travel and communicate with SIMTRAVEL with profit for your purse and having fun for yourself?
Two easy steps made are enough:
Advise your friends to take SIMTRAVEL when travel and so to save money on roaming.
Ask your friends to give your SIMTRAVEL number while filling special order form.

Each friend giving your SIMTRAVEL number is getting 20% discount subscription. And you are getting RUR 100 bonus on your SIMTRAVEL number account. The more friends giving your number, the higher bonus you get:
1 friend = RUR 100;
2-5 friends = RUR 150 for each friend;
6-10 friends = RUR 200 for each friend.


You can get a bonus just asking your friend to give your SIMTRAVEL number while filling order form. Just send them the following link and your SIMTRAVEL number.
SIMTRAVEL: communicate with your friends more often!

Note: Bonus is paid within one day from the moment SIMTRAVEL sim-card is bought under such promotion. Money from sim-cards bought under such promotion and sim-cards with bonuses paid can't be brought back and transferred to other phone numbers.
Would you like to get information on new events and special offers of SIMTRAVEL by e-mail?
| | |
| --- | --- |
| | SIMTRAVEL announces sale on «pretty» number sim-card in our online shop. International sim-card SIMTRAVEL with «pretty» number is exactly what you need during summer vacations and May holidays! |
| | |
| --- | --- |
| | Dear subscribers! You may get bonus miles of one airline company using international SIMTRAVEL sim-card. |
| | |
| --- | --- |
| | If you buy tourist SIMTRAVEL sim-card with the balance of 30 c.u. at Svyaznoy, you are getting Alcatel 112 as a present! |
| | |
| --- | --- |
| | SIMTRAVEL and ABBYY give presents: RUR 200 to each SIMTRAVEL subscriber! You may spend your onus on ABBYY ruPhone pnobe translator services. |
Free delivery of SIMTRAVEL sim-cards

You may order delivery of SIMTRAVEL tourist card to your home or office. Delivery throughout Moscow and Moscow ring highway and saint-Petersburg is free, if you order sim-card woth the balance starting from 10 c.u.!
| | |
| --- | --- |
| | You don't need to collect sim-cards of local operators any more! Forget about the principle «a new trip with a new sim-card»! |